Our Instructional programs connect San Francisco State University and the San Francisco community with faculty and visiting artists, featuring annual events including festivals, masterclasses, residencies and campus presentations.
We seek to connect communities on- and off-campus in engaging and relevant ways, in explorations of culture and content related to the practice and performance of small-ensemble music.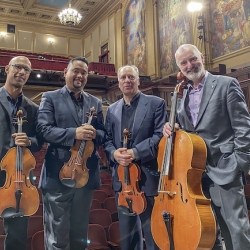 Outreach
The Alexander String Quartet maintains close ties with the Capp Street Community Music Center, San Francisco Youth Symphony Orchestra, California Youth Symphony Orchestra, the SF Conservatory Preparatory Division, the Crowden School in Bekeley and the San Domenico School in Marin County.
In addition to its work with undergraduate and graduate students at SF State as directors of the University's Chamber Music Studies program, the Alexander String Quartet also works with participants in the University's College of Extended Learning, as well as with music programs in several Bay Area high schools to develop students' performance skills and their understanding of the place of classical music in the history of modern civilization. The Alexander String Quartet appears at least once a year on the Morrison Artists Series and once a year presents a Morrison Artists Series outreach concert off-campus.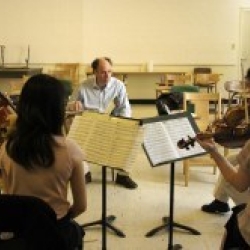 Chamber Music Studies
Repertoire includes works from the extensive chamber music repertory, as well as new compositions by student composers who are assigned to write for their colleagues. On the SF State campus each semester, several dozen SF State students participate in chamber music classes that are part of the School of Music curriculum. Student musicians are placed in ensembles which meet regularly throughout the semester to rehearse, receive coaching and perform in weekly forums.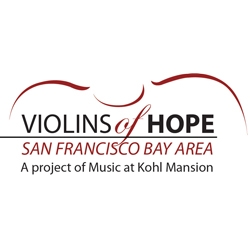 2020 Menuhin Seminar
Violins of Hope appears as part of Violins of Hope San Francisco Bay Area, presented in association with Music at Kohl Mansion, Burlingame, CA. Full events in the San Francisco Bay Area can be found on the Violins of Hope website.