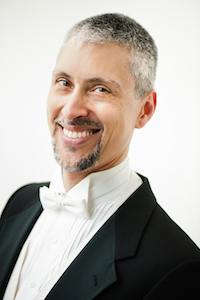 Cyrus Ginwala is Professor of Music and Director of the School of Music at San Francisco State University. Under his leadership, the Morrison Chamber Music Center continues to engage new audiences and expanded the scope of small ensemble music instruction and performance, with an emphasis on equity and under-served audiences. 
He has conducted the Roanoke Symphony, the Boca Pops, the National Symphony Orchestra of Costa Rica, the Aspen Concert Orchestra and the Sewanee Summer Festival Orchestra. He has served as visiting faculty at the Peabody Conservatory and the St. Petersburg Conservatory in Russia.
Music director of the Symphony of the Mountains, a professional orchestra, youth orchestra and symphony chorus, from 1996 to 2005, Ginwala conducted more than 100 works in subscription and pops series, while expanding the orchestra's concert and education programs. During the same period, Ginwala was resident conductor of the Sewanee Summer Music Center, one of the oldest summer orchestral training programs in America and, from 2002-2004 conductor of the Musica Piccola Summer Orchestra at the North Carolina School for the Arts.
Cyrus Ginwala was appointed as Artistic Director of the Morrison Chamber Music Center in 2018.