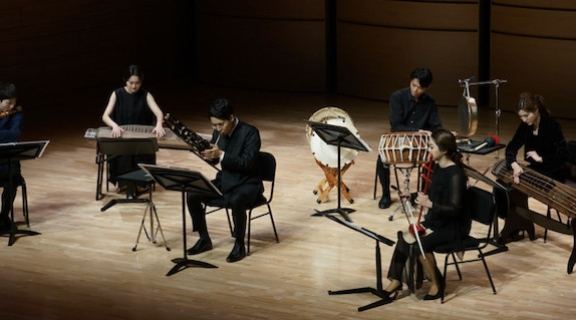 ensemble PHASE (앙상블 페이즈)
Sunday, November 03
Event Time
03:00 p.m. - 04:00 p.m.
Location
Creative Arts Building, Knuth Hall
Overview
ensemble PHASE is a group of musicians with a long-time passion for experimental projects, creating and performing new repertoires through experimentation on Korean instruments with various musical materials and artistic forms. 

ensemble PHASE has been actively performing traditional and contemporary repertoires, collaborating with living composers and performers from diverse musical backgrounds. Also, in order to expand interest in writing for Korean instruments, ensemble PHASE has given workshops and lectures for composers and students to better understand Korean music and instruments, in and out of Korea.

Since 2017, ensemble PHASE's projects have been sponsored by the City of Seoul, Seoul Foundation of Arts and Culture, Art Council Korea, National Gugak Center and Studio Paju.
Program:
Korean Traditional Music Repertoires:
- Cheon-nyeon-man-se (Korean classical ensemble piece)
- Sanjo (Korean folk solo piece)
Contemporary Repertoires composed for Korean Instruments
- Benjamin Sabey, Rare Bird (World Premiere)
- Christine Lee, Deep Ocean
- Sunghyun Lee, Isle of Ecstasy (US Premiere)
Pre-Concert Talk: 2:00 p.m.